Archive for the Uncategorized Category
In this article find out what are the best insoles that will give you the best support, protection, shock absorption and for more comfortable feet!
To know exactly what are the best orthotics for you it is important to know how your feet work and how orthotics should work. Arches are dynamic in structure and are not in a fixed position. With two arches in your feet, the first and most apparent arch being the longitudal arch the second is the transverse arch. The transverse arch lies across the mid foot. Some people think that there is another arch of the foot the metatarsal arch across the ball of the foot however this arch does not exist. There is actually no need for an arch across the ball of the foot because metatarsal heads can bear their own weight however if pressure and weight becomes too much damage can occur to the metatarsal area. You can buy metatarsal pads to elevate some of the pressure off the metatarsals.
Some other misconceptions about feet include fallen and high arches with many thinking that these problems are the main causes to pain and injury. However fallen or high arches do not pose a problem so long as the function of the foot is correct whilst walking this is because how the foot functions is far more important than the actual structure of your arches.
It is actually when the foot is pronated that problems such as pain and injury arise. This is why wearing foot orthotics is so important because they can help to improve the overall foot function. When buying orthotic insoles it is best to find a pair that allows for subtalar joint pronation which helps with your feet's natural shock absorption as your feet make contact with the ground. Stable support is also needed to act a rigid lever when you shift weight as you walk. Insoles help to realign and correct imbalances and instabilities in your feet that can affect foot function. With in-built arch support that give your feet just the right amount of support ie not too much and not too little. Plus with added shock absorption you just cannot go wrong!
We have a wide range of orthotics including insoles made from carbon fibre which offer light weight, durable yet strong support. Our carbon fiber insoles have been shaped to help correct underlining biomechanical problems including imbalances in your feet and pronating arches.
We have in stock a number of a full length insoles that support and protect your whole foot as well as a number specialized 3/4 heel orthotic insoles that just cover the heel and arch of your foot.
All of our full length insoles have in built arch, heel and metatarsal support. Plus they are made from shock absorbing and cushioned material with breathable holes to keep your feet sweat free and feeling fresh! We also offer a full 30 day money back guarantee which ensures that you are never left out of pocket if your new insoles aren't for you. This means that for whatever reason at all, if you are not 100% satisfied with your new insoles you can simply send them back to us within 30 days and get a full refund.. with no questions asked!
If you have flat feet and suffer from plantar fasciitis then these insoles are the perfect choice for you.
These insoles are designed to help to treat the most common causes of plantar fasciitis by supporting your feet in a natural and comfortable position that places the least amount of strain on your arches. Equipped with rigid arch support that supports the longitudinal (medial and lateral) arches and the anterior transverse arch to minimise pressure and strain on your plantar fascia. If you have flat feet you may also suffer from over pronation which can cause abnormal load and pressure on your feet making increasing your risk of developing foot injuries such as plantar fasciitis. These insoles use orthotic compression to stop your feet from over pronating helping to treat and prevent plantar fasciitis. Another good feature of these insoles is that they are made from lightweight and shock absorbing carbon fibre material helping to stop shock from damaging your feet, making them perfect for runners and athletes!
Summary
Inbuilt arch support insoles designed to support the main parts of your feet to relieve pressure and strain off the plantar fascia for the best treatment and prevention.
Made from lightweight materials so that they do not weigh your shoes down.
Added heel cups to help keep pressure off your heels and improve ankle stability and balance.
Can be trimmed to fit any shoe size using the guide printed onto the soles.
Memory foam layer gives your feet superior comfort.
Ideal for those with flat feet and high arches.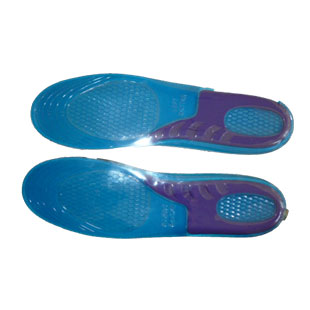 If you are always on your feet for long periods of time you may suffer from foot fatigue, aches and pains. Wearing a pair of these massaging gel insoles can help by supporting and rebalancing improving the protection to your feet. These insoles are made from silicone gel that specially adapts to the changing pressure, load, shape and contours of your feet as you walk helping to correct biomechanical imbalances and relieve pressure and strain off your feet. These insoles will also help to protect your feet and lower limbs from shock by depleting the shock generated when your foot strikes the ground during gait.
Summary
One size fits all.
Ideal for runners, athletes as well  as people who simply suffer from general foot pain.
Added Metatarsal pads support the ball of foot eases metatarsalgia
Supports the arch of your foot getting rid of strain on your feet.
Made from medical grade silicone gel that efficiently absorbs shock and protect against damage.
Lightweight and durable.
When you run shock is generated underneath the soles of your feet and and heels, 0vertime this shock can create damage to your feet and heels. Made from high quality materials that absorb shock and relieve pressure on your feet these insoles are ideal for preventing and treating a range of different shock related injuries. With inbuilt arch support that helps take strain and pressure off your arches as well as correct biomechanical imbalances that could cause common foot injuries such as plantar fasciitis. These insoles are extremely lightweight durable and flexible making them ideal for placing inside running shoes.
Summary
Super lightweight and durable design makes them ideal for runners.
Shock absorbing properties ensure you are protected against shock helping you to avoid injuries such as shin splints and runners knee.
Memory foam layer helps make your shoes feel super comfortable for longer.
Orthotic arch support reduces strain and pressure on the arches
Features breathable holes that help to keep air circulated around your feet stopping your feet from getting sweaty and bacteria building up.
If you enjoy running or do a lot of sports then it is important to protect your feet or else you run the risk of developing over use injuries such as plantar fasciitis. Our premium Sports and running insoles will keep your feet protected whilst running or playing sports with specially crafted orthotic technology that will realign and control the motion of your feet.
Summary

Made to be lightweight and easily fitted into sport shoes.
Memory foam layer from added cushioning and shock absorption
Inbuilt orthotic support helps to correct the way that your feet function when you run or walk
Arch support keeps pressure off your arch and prevents over pronation and supination from damaging the arch of your foot
Built from medical grade EVA shock resistant materials
Available in UK shoe sizes 5-7 8-10
Happy new year to everyone, we hope you are as excited about the new year as we are and this is the first blog post of the new year for Nuova Health! In this post we will briefly update you on the latest new product ranges to arrive at Nuova Health for this year.
For 2014 we will slowly bring in our new supports range of products. As you could see last year we brought in the magnetic back support to aid posture correction but now this will be joined by our knee support range. The knee supports have been brought in just in time for the winter as it is during the cold season that the knees become more painful if you have a knee condition and so these supports are designed so you can still live an active life but relieve some of the pain during these winter months. We will be looking to expand our supports range in the future so keep checking back.
Also as it is new year many of our customers will be following new years resolutions and the most popular one for many is the desire to get fit. Nuova Health have thus introduced a new range of resistance band products so you can gently work your muscles whilst following pilates or yoga style workout routines. These resistance bands are designed to be portable and easy to use, so you can workout anywhere you want to. No more expensive gym fees either.
You can look forward to further blog posts in the future where we detail different types of Yoga and Pilates exercises so you can gain the most from your resistance bands.
Whatever your goals are for the new year, lets hope that yours will be a healthy new year for you.
– The team at NuovaHealth.co.uk
We all know about the popularity of cosmetic surgery to enhance the breasts. However cosmetic surgery comes with real risks and adverse outcomes. Additional surgery may be required to remove the implant, scar tissue can form around the implant and squeeze the implant causing a risk of rupture which can lead to poisoning as well as pain in the area and nipple and breast sensation can change.
Whilst breast implants can certainly improve confidence we at Nuova Health believe the risks far outweigh the rewards. These risks are real and well documented as is evidenced by the recent implant scandal in the UK revolving around poor quality implant materials being used and the risk of severe outcomes due to these suddenly rupturing.
Thankfully there are safe alternatives to breast implant surgery. You don't have to take any dangerous pills, do any strange massaging exercises or use any dangerous and bizarre contraptions such as vacuum pumps.
Chicken fillets are ultra soft silicone inserts that you place in the bra, they create an illusion of a larger and fuller breast, leaving a lasting impression of enhanced cleavage. No they are not permanent, but there is no danger, they are easy to use and you can enjoy the enhanced confidence without the risks of surgery.  Nuova Health sell only the best quality chicken fillets, they are backed up with a 1 year money back  guarantee meaning you have a full year to try our product and then if you are not happy to return them and get a full refund, no questions asked. We are that confident you will just love your new chicken fillets silicone breast enhancers. Chicken fillets are more affordable than surgery as well – get the same benefits as £2000 surgery by only spending £9.99 how is that for value for money?