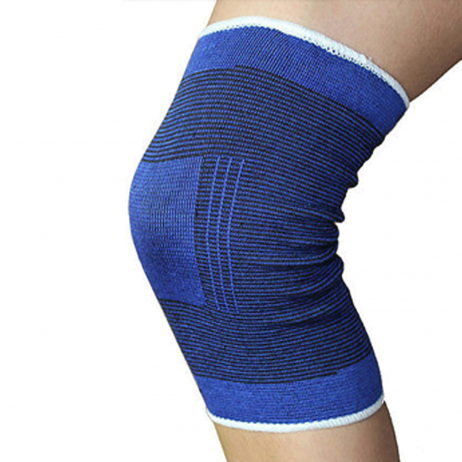 Knee Support Brace for knee pain relief
Rated 5.00 out of 5
1 REVIEW
NuovaHealth Elasticated Knee Supports provide firm support and underprop for the protection of the muscle joint. One size fits all without being restrictive on your freedom to move the joint. This NuovaHealth knee support brace helps to relieve pain and swelling of the knee muscle joint. This knee support is excellent for cold weather when knee pain often becomes worse as it traps warmth around the joint and stimulates blood flow.
You get:
2x Firm Knee Support Braces (One for each leg).
Specification:
Colour: Blue.
Size: Fits all.
For both men and women.
Related Products
Nuova Health magnetic back supports help to realign your posture and ease back and shoulder pain through magnetic therapy; 5 magnets are aligned down the center spine and 6 across the lumbar region. Support straps around the front shoulders help to pull the shoulders back for correct posture.

– Helps you to appear taller and straighter.
– Easy to use, comfortable and light to wear underneath clothes. No discomfort or visibility.Attention

If you have a spinal disorder or injury then please consult your physician before using this product. We accept no responsibility for any injury caused by this product.

Details

Orthotic arch support shock absorbing insoles for foot pain

£

9.99

Main features

1x pair shock absorbing insoles
Inbuilt arch support helps to improve the way that your foot functions reducing your risk of strain and injury to your lower limbs
Memory foam layer provides your feet with complete foot protection.
These insoles are the best choice for wearing if you are suffering from plantar fasciitis as they have been designed helps to ease weight and strain off the plantar fascia allowing you to make a faster and healthier recovery.
Ideal for people with flat feet, high arches or suffer from over-pronation or supination when walking.
Cups around your heel providing you with extra stability and balance reducing your risk of spraining and twisting your ankle.
Made from high quality shock absorbing materials to help stop shock from causing damage to your lower limbs.
Perfect for runners, athletes and people who are always on their feet.
Designed to be light weight and easily fitted inside a number of different shoes.
30 day money back guarantee for customer peace of mind

Details

Shock absorbing massaging gel insoles for heel pain & foot pain

£

10.99

If you have recently injured your feet and want to make sure that your feet make a full and proper recover then we would highly recommend a pair of these gel insoles. Wearing a pair of these gel insoles is a great way to give your feet extra support and protect stopping excessive strain and pressure causing further damage to them. These insoles make sure to correct any bio mechanical imbalances that you may have in your feet such as over pronation and supination making sure that your injury does not return.

If you do not suffer from any specific injury but find that you are on your feet for long periods of the day and suffer from general aches and pains then wearing these insoles can help too. These insoles are made from medical grade silicone gel, that can help with aches and pain in the feet and heel, by stopping the build up of pressure underneath your feet by spreading this pressure evenly across your whole foot and massaging your feet.

You get:

2x High Quality Massaging Gel Insoles (Left and Right)

Made from medical grade adaptive silicone gel that massages and supports your feet.

Ideal for those who are on their feet all day and suffer from foot pain and aches.

Heel cups helps to increase stability and balance of your heels.

Shock absorption prevents shock from causing damage to your feet making these insoles perfect for those who suffer from plantar fasciitis, shin splints, knee pain, hip and lower back pain.

Works to restore and correct the function and biomechanics of your feet.

30 day money back guarantee means you have nothing to lose when buying!

Details
Fast & Secure Checkout Through Paypal
Pay with Paypal the secure payment gateway that accepts all credit and debit cards. Paypal is free and secure and no credit or bank information is ever stored or shared with us.
Same Day Dispatch
Enjoy your items soon with quick dispatch via Royal Mail First Class. Expect to have your items between 1-3 days for domestic orders. 7-10 Working days for international orders.
Return Policy – No Questions Asked Refunds!
We are so confident that you will just love our product that we offer a full 30 day no questions ask money back guarantee. In the unlikely event, you are unhappy with your purchase you can simply return it within 30 days for a full refund. Please contact us via the form on the contact us page, or alternatively email us at sales@nuovahealth.co.uk to start your return.
CONTACT INFO
Location: Nuova Health UK, 81 Highfield Lane, Waverley, Rotherham, S60 8AL
Phone: 07531430015
Email: sales@nuovahealth.co.uk
Testimonials
Nuovahealth is simply the best of the best in my opinion! Always great service, fast delivery, and high-quality products!

I purchased a pair of insoles form NuovaHealth to help with my foot pain and so far so good! I've been wearing my new insoles for about a month now and my feet feel great. They make my shoes feel so comfortable and I can now be on my feet for as long as I […]

I purchased your orthotic arch support insoles as I suffer from a fallen arch that makes walking very painful. WOW… what a difference, now I can stand for a long time and walk about without any pain at all.

The height increasing insoles are brilliant, I love them! They are so comfortable and people are asking if I have gotten taller. Also noticing that girls are staring at me more… Will order again! Thank you!!!

The massaging gel insoles are extremely comfortable – now I can wear my high heels without pain! Thank you 🙂